Nirantar June issue is "WordPress Special"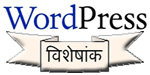 The June issue of Nirantar is on the browsers now. This has ushered in theme-based issues for Nirantar, the issue being a "WordPress special". The meteoric rise in the popularity of this open-source blogging tool led us to go for a special issue that focuses on its journey so far and ample advices for the WordPress newbie. Pankaj has done a very good job compiling this issue. Pankaj, a WordPress power user himself, has also spearheaded the Hindi localization of the tool.
Nirantar "WordPress special" issue features:
This issue also includes an extended news section, apart from the regular blog buzz for the month that went by, you may also read Patrix's reportage on the Blog Nashville event. And do not miss all the regular columns at Nirantar, there is something for everybody there; literature, book review, jokes, photo-feature, blog quotes, Chug's links and a poetry competition where you can win a book. If you are amused by statistics and trivia, there is the revamped "Abo-hawa" section that's on the verge of becoming the wizden of the Indiblogdom. Ok. Ok, I was exaggerating, but it's not bad either. Anup has the bird's eye view of the Indiblogosphere with his Chittha Charcha that takes a glance over interesting posts all around (and no, we are not short sighted to concentrate on Hindi blogs alone).
All in all, an interesting read I suppose. Do let me know your thoughts. If you wish to write for the zine do drop me a mail. We have interesting stuff lined up for Nirantar. In August we would have a "Water-special" issue that is expected to create some buzz. What's more, you too can be a part of this special issue, just watch out for a special announcement at Nirantar. Happy reading!