The Badshah of quzzing!
Aaj Tak is going for a public issue and they suddenly realized that the brand has emerged mightier than the TV Today insignia, so their typical "B&W Hindi archaic movie ishtyle" stupid advertisements were back to tell the viewers that Aaj Tak is an offshoot of TV Today and not the other way round. I was really taken aback that for one they actually succeeded in roping in one of my idols Siddartha Basu (frankly I am not aware if the opposite happened because the channel is shown as one of his clients at Siddartha's website).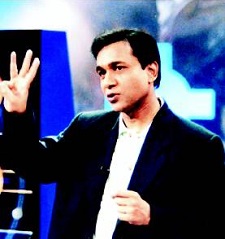 Talking of Siddarth, people of my age-group who were into quizzing have been ardent fans of Basu since his Quiz-time days at Doordarshan (DD). For me it was a magic phenomenon as it flamed my interest in quizzing, I hosted two shows of my own at Schools and won laurels in several. I was really awestruck by the professional packaging of his shows. He was the pioneer to introduce IITian gizmos into quiz scoring.
For those of you who don't know, Siddartha had a background in English theatre. He played the spoilt child of a millionaire in a DD TV serial called "Purvai" (though, must confess, his Hindi diction was pathetic). He also produced many TV plays, of note was "Kauwa chala hans ki chaal" in which I first noticed Raghuvir Yadav. But his and his company Synergy Communication's primary focus has been quizzing and they certainly are badshah of the format. Of course KBC was the pinnacle of their achievement where they were able to coax-in BigB to play the host and the rest is, as they say, history.
In 1994-95 I was at Delhi to appear for a competitive exam and decided to meet Siddartha personally with my friend, who was then teaching at Father Agnel's Polytechnic. We somehow got his telephone number and called him up on an afternoon. Anita, his wife, picked up but alas he had just gone to sleep. Then I was occupied for the day and the idea slipped off my mind. I could only call him up from the Nizammuddin station while I was heading home. To my surprise he came on the phone promptly (now that I think of it I realise that those were the days he was easily accessible). Synergy wasn't born then perhaps and he told about his shows for DD. When I asked about his theatre activities he said that it continues side by side. "Thanks for calling" he said in his typical style as we concluded the conversation. But those who have met or talked with a celebrity they adore can very well gauge how I felt at that moment. Unfortunately with Mastermind on I haven't really followed his career, but Siddartha still remains one of my idols.