Infrastructure improvement should be top priority of MP government: Arun Maheshwari
Not many Indorians may be aware that Indore is home to one of the largest software and services companies in the world 25% of whose sales go to the US Government. A CMM Level-5 company, Computer Sciences Corporation (CSC) India Pvt. Ltd., ably steered by its Managing Director, President and Chief Executive Officer Dr. Arun K. Maheshwari, has been awarded the best software exporters award by M.P. government many times.

Dr. Maheshwari has studied at IIT, Mumbai and IIM, Calcutta. He holds a Master's degree in Computer Science from Stanford University, a Business degree from Columbia University (MBA) and a PhD from Wharton School of Business. His enviable career spans association with McKinsey, Reliance Insurance and Continental Insurance. He has also taught at Temple University, Wharton School, New York University and Bajaj Institute. In 1996 Maheshwari laid the foundation of Policy Management Systems India (PMSI) at Indore, a subsidiary of Mynd Corporation, the world leader in insurance software. In January 2001 Mynd merged with CSC and PMS India became CSC India.

Debashish Chakrabarty talked to Dr. Maheshwari about his company, its future and other issues.
Please tell us in brief about your company and its strengths.
CSC is one of the world's leading software and services company with about 65,000 employees worldwide. It reported revenues of $11.3 billion for the 12 months ended Dec. 27, 2002. CSC specializes in consulting, systems design and integration, IT and business process outsourcing, applications software, web and application hosting. It is head-quartered in El Segundo, California.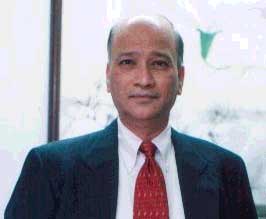 CSC India is a wholly owned subsidiary of CSC and operates out of its state-of-the-art centres in NOIDA and Indore. CSC India has successfully completed software projects in many countries including USA, UK, Germany, South Africa and Australia. We have excellent domain expertise in Property & Casualty Insurance, Life Insurance, Baking and Health-care Industries.
Please tell us about your products in various verticals.
CSC is a leading software and services vendor in many verticals such as life insurance, general insurance, banking and health-care. We have multiple product offerings in each of these verticals. Some (of these) are being offered in India also. In fact, CSC India does not have any different product for the Indian market.
How has the merger of Policy Management Systems (PMS) India in to CSC affected your business objectives and performance?
CSC acquired PMS India in December 2,000. Since CSC did not have an office in India, PMS India became CSC's face in India and was renamed CSC India. All PMSI employees are today a part of the CSC family and have benefited tremendously from the global policies of CSC. CSC has grown in terms of qualified resources as a result of the acquisition of PMS India.
Having ambitiously begun the Noida centre, we heard about your plans for another development centre at Hyderabad. What are the growth plans for your India operations in general and Indore in particular?
CSC India is planning another centre in Noida, which should be operational by the 2nd quarter of next financial year. The company is also planning further expansion in Noida and a centre in the South but the exact location has not been finalized as yet. CSC grew by more than 70% per year in the last 2 calendar years. Plans for CSC India call for equal or even more aggressive growth in the next couple of years at least.
The BPO business sector has seen major upheavals; Spectramind sold to Wipro and CustomerAsset to ICICI; many other big and mid sized companies like Infosys, Cognizant and Polaris are in the foray too. What in your opinion prompted these companies, including yours, to virtually transform the BPO business in to "big boys game" ousting the venture-funded BPO start-ups?
BPO is a natural area of tremendous competitive advantage for India. The growth should have happened sooner. With the tremendous success of a few pioneers such as American Express and GE Capital, major vendors and companies have recognized the potential of this business and are all trying to catch up. For some, the best way to move forward is through acquisition and for others organic growth. We got into this business before many of the larger IT companies and plan to grow this organically although we are not averse to acquisition if a good candidate comes along.
MP has been trying to emerge as the next IT destination. The e-governance initiative in the state has also received acclaim in the past. How does CSC view this and wish to participate in the process?
We are most supportive of MP and other state governments to improve their services to their citizens with the help of IT. We are not interested in doing business with the public sector at this time although we are willing to contribute on a pro-bono basis to their efforts.
What do you think should be the strategy of the MP government to attract other entrepreneurs and generate more employment for state's unemployed IT trained manpower?
Improvement of infrastructure should be the top most priority of the state government. Once infrastructure in MP is comparable to those in the other states, the state will have a better chance of attracting entrepreneurs and large companies. Making the companies that have decided to come to MP happy with the government's support will also help as these companies will becomes the ambassadors for MP.
Please tell us about the "Advanced Software Technology Research and Information Centre (ASTRIC).
With the inexorable advances in technology and processes need for broad-based research to break new ground is bound to arise. We set up ASTRIC for such research work. The objective of ASTRIC is to nurture a research group consisting of permanent and voluntary participation from employees to help the organization with current requirements in research, study of new technologies and leveraging trends in technology and processes, thereby helping CSC improve its processes and methodologies.
Among other activities ASTRIC is involved in knowledge sharing, evaluation of new and promising technologies and preliminary feasibility studies of new projects under discussion with customers.
Would you like to tell us something about any interesting ongoing project and the future policies of CSC India?
CSC India has developed domain expertise in many industries and plans to get into new domains in the future. It has also recently ventured into BPO and is looking at infrastructure support services for the future. In terms of policies, we have excellent customer and employee focused policies. We have the highest-level – CMM Level 5 – software quality certification and we are pursuing the highest level of People CMM, which focuses on the employee side of the business.
[This interview appeared under the column "Digital Speak" in the newspaper Free Press Journal, Indore edition dated 17 February 2003]