Your Computer is your TV too
The Indian economy is overheating, the feel-good factor does not merely exist on the story-board of political campaigns, and it has transgressed to Internet as well. Add to this a fizz of Web2.0 frenzy and you have a crazy concoction of Internet euphoria ready for the consumers. Dear readers, after YouTube desi wannabes Tera Video, TumTube and MeraVideo it's the turn of Aapka Video, a recently launched, free, social video sharing site.
IMHO the problem with Video sharing sites is their likeliness to the email forwards; everyone wants them to be short and funny. In video parlance, this translates to sleaze, a mere glance on the home page of these sites will force to look around you, koi dekh to nahi raha, certainly these sites are not work-safe. But then, it's a peril associated with most of the user-generated content.
AapkaVideo tagline is "Director ban jao" (become a movie director) which indicates a pious, if not unique, USP. They might have in mind those yuppie and extravagant Cell phones, with ever increasing recording time and video quality, people carry now days even in the toilets. Nokia was quick to realize this and has successfully tried to encourage movie making through these sneaky cameras. So yes, there is a market, but till that reaches a critical mass, you to have to be content watching those tacky snippets from Bollywood movies and Advt from the firang channels. The wait, meanwhile, for upcoming Mani Ratnams and Karan Johars may be prolonged though you could surely find umpteen Jagmohan Mundras.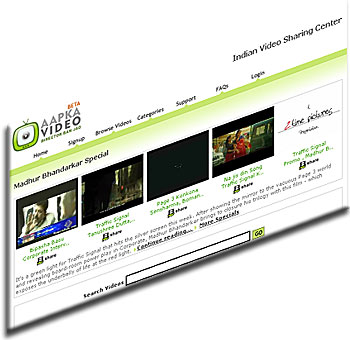 I feel good when I see a glimpse of monetization plan in such ventures, apparently AapkaVideo has plans to use the 'Special" segment where they could have featured videos or videos on a theme, Buzzfeed fans will find an instant liking for this. Combine this with anticipated market for projects such as "movie on demand" and you may have a niche market in your trap.
The site has a professional layout and since it's still a beta, improvements are imperative, including the fact already discussed in the blogosphere: the videos don't work on Firefox. The option to enlarge the video seems good, but they actually should provide the facility selectively to videos that will look good at higher screen resolutions. The site supports a vide range of video formats and allows uploads unto a 100 MB. And being a Java guy, it feels good to see the ".jsp" file extensions on browser.
I really envisage the days when such sites will also have a meaningful aspect to them, imagine breaking news videos from a citizen journalist, vlogs, interviews and technology reviews. AapkaVideo seems to have an inkling of this and you could spot categories such as "Techzone" and "News & Blogs", which may take some time to generate relevant content.
Amidst all these video sites becoming the cynosure of eyes, even a blind can see the emerging trend, namely, the television making a move from the idiotbox to your computer monitor. TV on Internet and IPTV are being discussed since many years, the Golliaths like Yahoo, Google, Microsoft and the Telcos are involved in using the net as a medium of distribution of digital content, all this to take advantage of the interactivity with the viewer.
To most of the Indians this doesn't mean much, atleast at the moment. Bandwidth is still a bottleneck, the availability graph is rising but the costs are still far off the affordability radar.
Another larger question that emerges, is the control over this user-generated content. YouTube has been in the docks for the same, sort of déjà vu of Napster, let's face it: people are concerned over piracy issues.
The ultimate challenge for these companies is to provide superior video content on the net without ignoring the copyright and security issues (spyware, viruses), but if they are successful it would be win-win situation for both TV and Internet.
So be forewarned, the AapkaVideo jaadoo may actually end up mesmerizing you sooner than you think. Now, off to that video tagged "desi kiss" 😉
[Disclaimer: This is a paid review for Reviewme, but the thoughts are my own.]