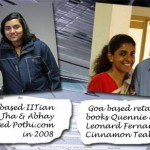 Self publishing is no more vanity publishing and in this age of e-publishing more and more brick and mortar publishers are adapting to the new trend. In this article Debashish Chakrabarty and Ravishankar Shrivastava would take you to the world of self-publishing where they also explore the POD scene in India.
Hey guys! I am so glad to bring this news to you all. Thanks to Pranav of StartupDunia.com our podzine Podbharti has been nominated for the TATA NEN Hottest Startups awards. Organised by National Entrepreneurship Network and TATA Group, in association with Helion, Mint , Seedfund and Wadhwani Foundation, it is India's only community-chosen awards...
Nirantar, a Hindi blogzine published by me, has been lying dormant for a while (a year, to be precise). Its heartening that the zine is alive again with its July 2008 issue available on your nearest browsers now. here are the issue highlights: Can India afford its villages? This is the cover story for the...