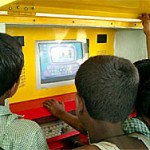 An interview with award winning scientist & proponent of the Hole in the Wall (HIW) experiment: Dr Sugata Mitra. He started the experiment at the slums at Kalkaji, Delhi in 1999 & proved that kids could learn computers without formal training and teachers.
By now we all know that Facebook founder Mark Zuckerberg was in India. Speculations were ripe on his planning an Orkut killer product targeted specifically for Indian net users. Gossip website Techgoss had declared a bounty for his pictures and yet it seems nobody really knew why he was here. Valleywag reports that Mark was...
Recently while adding some information (link to a Hindi Podcast that dwelled on the subject of the first stone pelting student at the "Reliance Fresh" outlet at Ranchi) to the English Wikipedia article Reliance Fresh I came across a user "Ril editor" who would repeatedly delete my entry. The user is apparently a worker of...